All Saints Preservation Trust was set up in 1999 to raise and manage funds for the preservation of All Saints parish church, Leighton Buzzard, a Grade 1 Listed building. An architect's report the previous year had thrown up some serious structural problems which needed urgent attention and a seven phase programme of repairs was proposed the cost of which was beyond the resources of the local congregation. The Trust is an independent charity set up as a response.
Not all the Trustees are church people but all share the determination to see the town's oldest and finest building maintained for future generations to use and enjoy. Its success can be seen in the building which looks at its best.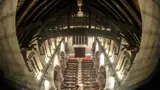 View from above
The angel roofs were given by Alice de la Pole, circa 1460, grand daughter of Geoffrey Chaucer.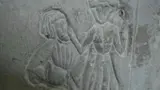 Ancient Graffiti
There is much medieval graffiti in the church including the famous 15th century Simon and Nellie relief.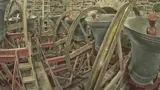 Ring of Twelve Bells
By Taylors of Loughborough, installed after the fire of 1985, replacing an earlier ring of 10 bells cast in 1787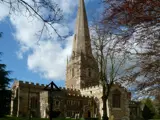 All Saints Church
Leighton Buzzard's ancient parish church of All Saints has stood in its corner of the town for over 700 years. Before that the site was occupied by a smaller Saxon church, so it represents more than 1,000 years of Christian history.
With your help, we are doing our best to see this history conserved and preserved for future generations to use and to enjoy.
Please make a donation to help us to help keep the building in good shape. Find out how on our fundraising page. And if you are able, please remember to gift aid your donation.
We also appeal to those who love this building or have a connection with it to make provision for a bequest to All Saints Preservation Trust in their will.